Application of fine sand recovery unit in sand making production line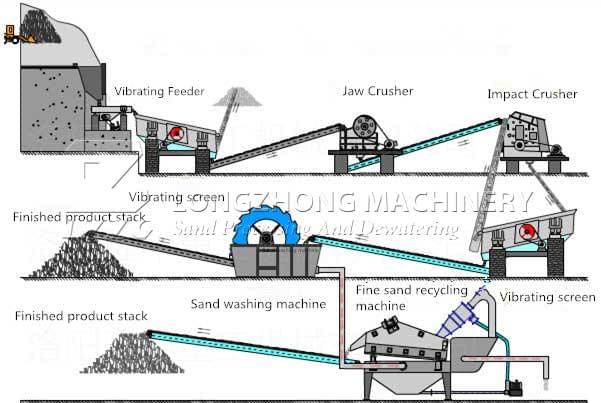 In addition to the river,sea sand collection you must equip with sand washing machine, from the perspective that gets the maximum profit from sand production line ,fine sand erosion is a major defect of wet sand production that can not be avoided, because in the sand washing machine a lot of fine sand are lost, which not only impact the overall quality of the resulting sand, but also increase the cost of production, and even serious pollution of the environment. Therefore, fine sand recycling machine has become can not be ignored, its main role is to recovery fine sand that loss in the process of artificial sand production, which not only improves the quality of artificial sand, but also to avoid the pollution of the environment, it is of great significance. Machine-made sand production lines equip with fine sand recycling machine havethe following advantages:
1. sand washing water is indispensable, the production line can be built in the local water supply closely spaced, it is best to take the rivers, lakes and other natural water sand, in order to reduce the cost of capital.
2.reduce the cost of production: due to the production of fine sand was recovered, sedimentation tank sediment will be reduced a lot, then clean up the sedimentation tank less work, cleaning costs will be less.
3.the mesh of fine sand recovery device is made of polyurethane material,will be more firm;that the other screen, the service life is long, because the screen is carefully designed, it can be assured that will solve the block problem;
4.the use of fine sand recovery device reduces the time for fine sand stacking, allowing more space to display other items.